Acumenex makes it easy and effective for independent optometrist clinics to compete in today's changing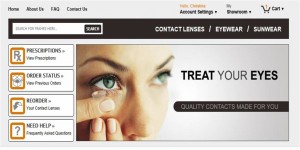 market.   As the optical industry competition continues to grow, and business models need to adapt and change, our optical solutions are specifically designed to help small businesses take advantage of having the first opportunity to transform their patients into their customers.
Our WebStore solutions incorporate the entire supply chain including distributors, financial institutions and insurance benefits.
Our flexible solutions:
Are open to the general public, or require user registration
Provide visibility of all transactions across multiple locations and brands
Provide control to set pricing, product offerings and promotions
Are based on a central support application for customer service
Include automated RX verification
Include virtual "try on" software integration
Provide a customizable user interface for each practice
Canadian Solution:
CanadianVision is a solution that makes it easy, convenient, and safe for patients to purchase their
prescriptions on-line – directly from their optometrist.  To learn more about this solution, visit www.getcanadianvision.ca (or click the logo).